A BREATHTAKING TRIBUTE TO MY MOD
MACRO DETAIL
All textures are taken with high quality camera or made procedurally for a very detailed and realistic output, especially with x2048 or 2K texture size, which is the maximum size of the 3 resource packs Ultimate Immersion offers. Other two downscaled texture packs are x1024 and x512 who for exchange of detail deliver faster real-time rendering or performance in short. All textures are made in PBR or Phisically Based Rendering format and some are even using POM or Parallax Occlusion Mapping, resulting in reflective and bumpy materials that imitate true photo-realistic environment in ultra high resolution.
HUNDREDS OF NEW BUILDING BLOCKS
Ultimate Immersion Modern Archviz mod currently offers nearly 400 new modular elements. From construction and building blocks like realistic thin walls, various window frames, roofing, complete roads with road signs, to many furniture elements for you to create as realistic as possible interior designs, along with tech, decoration and lighting blocks. With all these, there are nearly endless possibilities creating your building designs. Above all, this project is a continuous work in progress as Ultimate Immersion is working really hard delivering new updates every month.
INTERACTIVE & EMISSIVE OBJECTS
Many blocks in the Ultimate Immersion Modern Archviz mod are interactive, meaning you as a player can change their state by right-clicking on them. That includes turning various tech devices on and off like PC, monitor, laptop… open window blinds to bring the sun light in your interiors as you please, turn lights on and off and much more. Many blocks also contain custom illumination textures like eg. oven LED display, LED lighting and even animated and RGB lighting for PC and laptop that change colors, traffic lights that switch light colors over a time interval and more.
CREATE LIFELIKE ARCHVIZ
With Ultimate Immersion Modern Archviz mod and texture pack you can create almost anything and create realistic buildings and urban environment of endless possibilities. There are still many Minecraft limitations that prevent complete building freedom, though Ultimate Immersion is doing his best to find an alternate way around, as he showed this throughout his mod updates over and over again. There are also many fan maps on the download page, as big as entire city district for you to test and possibly get inspired by!
Download Ultimate Immersion Mod & MapS
Ultimate Immersion Modern Archviz is a long and ambitious project containing textures and models created from scratch, by Ultimate Immersion. As huge lover of modern architecture, he puts his inspiration into Minecraft for you to create your own world in stunning detail. Here you will also find his own test map or a selection of fan made maps for you to test the mod contents or to get a spark of inspiration of building style.
Troubleshooting and OPTIMIZATION guide
If you're new to modding or if you want to optimize your game using the mod with SEUS PTGI shader, it is strongly recommended to follow the complete usage guide written by Ultimate Immersion himself, from many hours of mod development and testing and working with PTGI, in order to output the most optimized and best looking result according to your system performance. You may also find an answer you're looking for in the FAQ section.
FEW SHOWCASE VIDEOS
Stunning Ultimate Immersion's showcase videos, portray Minecraft in photorealistic world with his high resolution PBR textures and mod. Designed mainly for SEUS PTGI ray tracing shader by Sonic Ether, it makes Minecraft look questionable comparing with real life.
Run our Mod Lists with Apex Gaming PCs
After years of using their products personally we have teamed up with APEX to bring you 3 custom PC builds which are fully customisable to fit both your modding and gaming needs. Check out our recommended systems below for each mod list and check out the video to hear more about our partnership with APEX.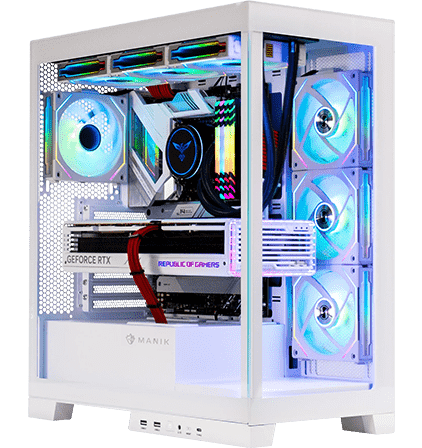 Customize Our Presets To Your Needs
Special EDITION
AMD Ryzen 3 3100 4-Core 3.6 GHz

16GB DDR4-3600

NVidia GeForce GTX™ 1660 Super

240GB SATA SSD (Up to 500 MB/S)

450W/500W 80+ Power Supply (EVGA, Corsair, Apex)

Windows 11 Home
Ultimate Edition
AMD Ryzen 5 5600X 6-Core 3.6 GHz

16GB DDR4-3600

NVidia GeForce RTX™ 3060 Ti

512GB NVMe SSD (Up to 3,500 MB/S)

750W 80+ Gold Power Supply (EVGA, Corsair, Apex)

Windows 11 Home
Legendary Edition
AMD Ryzen 7 5800X 8-Core 3.8 GHz

16GB DDR4-3600

NVidia GeForce RTX™ 3070

512GB NVMe SSD (Up to 3,500 MB/S)

750W 80+ Gold Power Supply (EVGA, Corsair, Apex)

Windows 11 Home